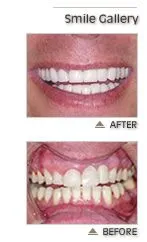 Dental Implants Lexington MA
A dental implant is a replacement for a missing root. The implant root form is placed where there is a missing tooth. The bone heals to the implant and stabilizes it. The implant can then be used for placement of a single tooth crown, or retention for a bridge or removable prosthesis.
Many people have been suffering with missing teeth and dentures for a long time. Implants can make for a better lifestyle. New materials and grafting procedures allow for the replacement of missing teeth, where it was never before thought possible. There are a multitude of different design possibilities to help you regain oral function, support, and aesthetics.
As Prosthodontists, we serve as the "quarterback" of the dental team and help establish a comprehensive treatment plan and coordinate the necessary procedures with the proper dental specialists, who are experts at the placement of implants. Once the implant has healed, and can receive functional loading, your team of Prosthodontists completes the restorations. Our goal is to provide you the most natural, functional and cosmetically pleasing results. You will immediately have an improved quality of life and the self-confidence of a beautiful and functioning smile.
Think dental implants might be the right option for you? Call us, Lexington Implant and Restorative Dentistry, at our Lexington MA office today! (781) 862-8223.